6:09am: A summary of the questions answered, and still pending, about the disappearance of Malaysian Airlines Flight 370 after Prime Minister of Malaysia Najib Razak's announcement:
What we know
The plane crashed: Najib said satellite data showed the flight "ended in the southern Indian Ocean," confirming that the Boeing 777 that disappeared more than two weeks ago went down in a remote corner of the ocean, "far from any possible landing sites."
Its last position: A British company calculated satellite data obtained from the remote area of the ocean, using analysis never before used in an aviation investigation of this kind, and pinpointed the last spot the flight was seen in the air was in the middle of the ocean west of Perth, Australia.
No survivors: Najib left little doubt that all 239 crew and passengers had perished in the crash; the father of an aviation engineer on the flight said, "we accept the news of the tragedy. It is fate."
Questions remain
Who and how: Malaysian authorities have not ruled out any possible explanation for what happened to the jet, but have said the evidence so far suggests it was deliberately turned back across Malaysia to the Strait of Malacca, with its communications systems disabled. They are unsure what happened next. Authorities are considering the possibilities including terrorism, sabotage, catastrophic mechanical failure or issues related to the mental health of the pilots or someone else on board.
What's floating in the ocean: The prime minister didn't address whether investigators had confirmed floating objects in the ocean and images captured by several countries' search parties, including that of France and China, were debris from the plane.
– AP
6:00am: Chinese government statement regarding Malaysia's announcement on Flight MH370:
"China is aware of Malaysia's announcement (of the plane crash). We are paying high attention to it. China has requested Malaysian authorities to further provide all information and evidence leading up to such (a) conclusion. China's search and rescue efforts are continuing. We also hope those of Malaysia and other countries could go on as well."
– CNN
5:50am: Beijing: Relatives shrieked and sobbed uncontrollably. Men and women nearly collapsed, held up by loved ones. Their grief came pouring out after 17 days of waiting for definitive word on the fate of the passengers and crew of the missing Malaysia Airlines jet.
Malaysia's prime minister gave that word late Monday in an announcement from Kuala Lumpur, saying there was no longer any doubt that Flight 370 went down in the southern Indian Ocean.
Relatives of passengers in Beijing had been called to a hotel near the airport to hear the news, and some 50 of them gathered there. Afterward, they filed out of a conference room in heart-wrenching grief.
One woman collapsed and fell on her knees, crying "My son! My son!"
– AP
4:42am: How British satellite company Inmarsat tracked down MH370
Inmarsat's role in the search for Malaysian Airlines flight MH370 began immediately after the aircraft disappeared. Although the main aircraft communications addressing and reporting system (which would usually transmit the plane's position) was switched off, one of Inmarsat's satellites continued to pick up a series of automated hourly 'pings' from a terminal on the plane, which would normally be used to synchronise timing information.
By analysing these pings, Inmarsat was able to establish that MH370 continued to fly for at least five hours after the aircraft left Malaysian airspace, and that it had flown along one of two 'corridors' – one arcing north and the other south.
Meanwhile, Inmarsat's engineers carried out further analysis of the pings and came up with a much more detailed Doppler effect model for the northern and southern paths. By comparing these models with the trajectory of other aircraft on similar routes, they were able to establish an "extraordinary matching" between Inmarsat's predicted path to the south and the readings from other planes on that route.
"By yesterday they were able to definitively say that the plane had undoubtedly taken the southern route," said McLaughlin.
– Telegraph.co.uk
3:57am: Beijing: Mixed in with the grief here among the relatives in Beijing at the Lido Hotel is a sense of rising anger and disbelief.
Families have long been angry at what they perceive to be a gross mishandling of the investigation. Many were, and appear to remain, convinced that the Malaysian government has been complicit in an elaborate cover-up – a conspiracy theory that has enabled them to avoid the more plausible reality.
"The Malaysian government is too dark," one woman wailed.
"Why won't you tell the truth, why don't you respect our families?"
After more than a fortnight of holding on, the abrupt nature and brevity of the Malaysian announcement has proven hard to accept.
"I've been waiting half a month and they just give us one sentence?" one woman yelled to reporters.
Most though, have been too debilitated by grief too get angry. One woman, sat slumped on the ground, as her concerned companion called out for help.
As paramedics crouched down, her the companion explained that her son was on the plane.
"I don't want to get up," the woman said. "I don't want to go home. I don't want to go anywhere."
– By Philip Wen
3:27am: Yesterday, 18,500 square nautical miles were searched in the Australian search area.
Two orange objects approximately one metre in length and one white coloured drum were sighted by search aircraft, but remain unidentified and have not been conclusively linked to MH370.
HMAS Success detected two radar targets within the search area, but could not locate the targets on further investigation of the area.
– Operational update from Malaysia Airlines
2:50am:
Grief and anger … A relative of a passenger on Malaysia Airlines flight MH370 waves her fist as she cries after hearing the news that the plane plunged into the Indian Ocean at Lido Hotel in Beijing.
2:11am: Kuala Lumpur: The missing Malaysia Airlines flight MH370 crashed into a remote area of the southern Indian Ocean, killing all 239 people on board, Malaysia's prime minister Najib Razak announced early on Tuesday.
"This is a remote location, far from any possible landing sites," Mr Najib told a media briefing.
"It is therefore with deep sadness and regret that I must inform you that, according to new data, flight MH370 ended in the southern Indian Ocean," he said, fighting back tears.
Relatives of passengers, pilots and crew were told of the news late on Monday night, ending an agonising wait to learn the fate of their loves ones.
Confirmation the Boeing 777 crashed into the sea came from Britain's Air Accidents Investigation Branch which had been provided information from the London-based satellite company Inmarsat.
The company used a type of analysis never used before in an investigation of this sort to determine the plane flew far into the southern Indian Ocean where there is no land for thousands of kilometres.
– Lindsay Murdoch
1:51am: Beijing: Distressing scenes of absolute anguish have broken out at the Lido Hotel in Beijing, after relatives of missing Malaysia Airlines Flight MH370 received the news that the plane had ended in the Indian Ocean.
Family members filed sombrely into the hotel's conference room after being told to gather urgently at the hotel for a news update.
Minutes later, many burst out of the room openly wailing, some collapsing on the floor and needing to be held up by paramedics and police at the scene.
One man threw himself down an escalator and refused to get up, having to be dragged onto his feet by reporters.
Loud wailing and sobbing could be heard from outside the room as a steady stream of paramedics brought in stretchers.
Earlier, it is understood families had received text messages from authorities informing that "we have to assume beyond any reasonable doubt that MH370 has been lost and that none of those on board survived."
For more than two weeks, these family members have come to this hotel daily for news updates, hanging on to every last bit hope.
Tonight, that has been taken away.
-By Philip Wen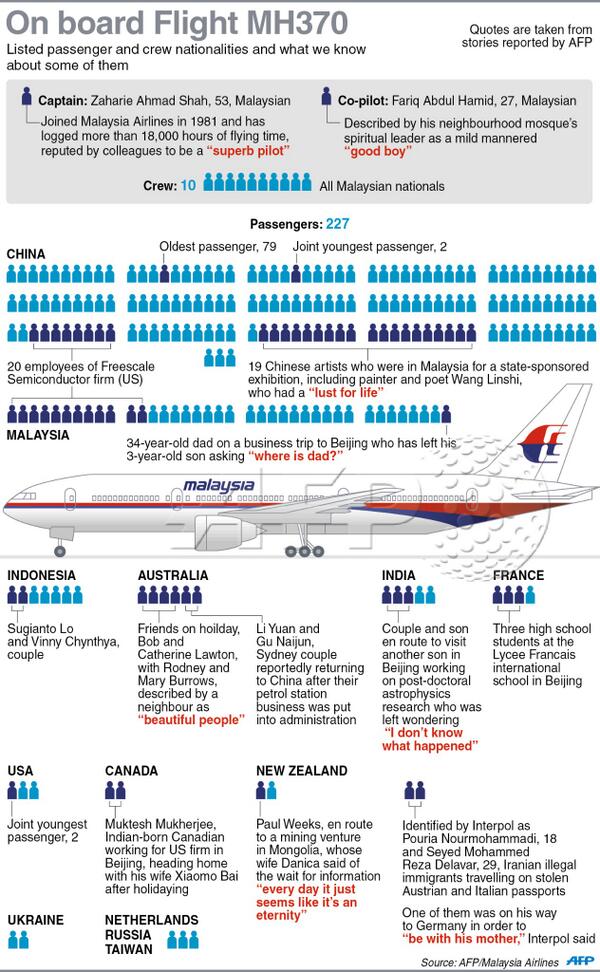 1:35am: This is the statement Malaysia Airlines shared with the families of passengers and crew of MH370:
Malaysia Airlines deeply regrets that we have to assume that MH370 ended in the southern Indian Ocean. As you will hear in the next hour from Malaysia's Prime Minister, new analysis of satellite data suggests the plane went down in the Southern Indian Ocean.
On behalf of all of us at Malaysia Airlines and all Malaysians, our prayers go out to all the loved ones of the 226 passengers and of our 13 friends and colleagues at this enormously painful time.
We know there are no words that we or anyone else can say which can ease your pain. We will continue to provide assistance and support to you, as we have done since MH370 first disappeared in the early hours of 8 March, while flying from Kuala Lumpur to Beijing.
The ongoing multinational search operation will continue, as we seek answers to the questions which remain. Alongside the search for MH370, there is an intensive investigation, which we hope will also provide answers.
We would like to assure you that Malaysia Airlines will continue to give you our full support throughout the difficult weeks and months ahead.
Once again, we humbly offer our sincere thoughts, prayers and condolences to everyone affected by this tragedy.
1:34am: The Malaysian Prime Minister's announcement that MH370 is lost in the Indian Ocean is unrelated to the objects spotted by an Australian aircraft on Monday.
The HMAS Success sent to retrieve those objects did not find them on Monday night, and it is still not known whether or not they are connected to the missing flight.
The search will resume at first light this morning.
1:32am: Distressing images are emerging from Beijing, where family members of lost passengers are reacting to the news their loved ones are dead. Malaysia's prime minister has urged the media to respect their privacy "and allow them the space they need at this difficult time".
1:12am: Full statement from Prime Minister of Malaysia Najib Razak made in Kuala Lumpur at 1am Sydney time:
"This evening I was briefed by representatives from the UK Air Accidents Investigation Branch (AAIB). They informed me that Inmarsat, the UK company that provided the satellite data which indicated the northern and southern corridors, has been performing further calculations on the data. Using a type of analysis never before used in an investigation of this sort, they have been able to shed more light on MH370's flight path.
Based on their new analysis, Inmarsat and the AAIB have concluded that MH370 flew along the southern corridor, and that its last position was in the middle of the Indian Ocean, west of Perth.
This is a remote location, far from any possible landing sites. It is therefore with deep sadness and regret that I must inform you that, according to this new data, flight MH370 ended in the southern Indian Ocean.
We will be holding a press conference tomorrow with further details. In the meantime, we wanted to inform you of this new development at the earliest opportunity. We share this information out of a commitment to openness and respect for the families, two principles which have guided this investigation.
Malaysia Airlines have already spoken to the families of the passengers and crew to inform them of this development. For them, the past few weeks have been heartbreaking; I know this news must be harder still. I urge the media to respect their privacy, and to allow them the space they need at this difficult
1:10am: The BBC is reporting families of Malaysia Airlines passengers have received a text message from the airline saying it was now "beyond any reasonable doubt" that flight MH370 has been lost and there are no survivors.
1:10am: The announcement comes after new data was reviewed by British satellite telecommunications company Inmarsat, ruling out the northern corridor for Flight MH370.
source: smh.com.au